Originally published on
Houzz
.
There are many benefits to a large kitchen island. But it's not your only option. The following kitchens show a variety of alternatives that might offer a better solution for your space.

Home On Cameron1. Antique Library Table
Designer: Susan Nelson of Home on Cameron
Location: Alexandria, Virginia
Size: 169 square feet (15.7 square meters); 13 by 13 feet (3.9 by 3.9 meters)
Homeowners' request: Retain the original 20-plus-year-old cherry cabinetry while infusing personality into the space and updating the appliances, countertops, backsplash and wallpaper.
Island alternative: An antique oak library table with barley twist legs takes center stage. "The antique patina and the visual strength of the legs were the deciding factors for selecting this table," designer Susan Nelson says. Victorian piano stools provide seating and can be tucked under the table when not in use.

Home On Cameron
Other special features: "China Seas wallpaper adds excitement to the classic cabinetry," Nelson says. "The brick floor references the historic nature of the home, as does the ceramic farmhouse sink." The countertop is Caesarstone that looks like Carrara marble. The backsplash is hand-painted ceramic tile.
Designer secret: "This kitchen needed personality," Nelson says. "The wallpaper in the glass cabinets in a more dense pattern than the tile backsplash, colorful ceramics, an unexpected green teapot and bright fabrics on the stools make this once sad kitchen lively and fun."
"Uh-oh" moment: "Several cabinet doors needed to be replaced during the remodeling process," Nelson says. "New cherry cabinets just don't have the same richness or patina, and to be honest, the new cabinets looked like raw wood compared to the original cherry. To overcome this, I used a sunlamp directed at the new cabinet doors for hours a day. It took about a month, but the new cabinets now look just like the original cabinets."
Sink: Shaw; faucet: Rohl; stove: Miele; backsplash tile (discontinued): Architectural Ceramics; wallpaper: Edo by China Seas in navy and white, Quadrille; lantern: Crystorama; ceramics: custom-colored, Jill Rosenwald via Home on Cameron
See more of this home


Interiors by Odette Design Group
2. Quartz-Topped Dining Table
Designer: Odette De Lucia of Interiors by Odette Design Group
Location: Oakville, Ontario
Size: 252 square feet (23.4 square meters); 14 by 18 feet (4.2 by 5.4 meters)
Homeowners' request: This is interior designer Odette De Lucia's kitchen, which she designed herself. She and her husband wanted to update their standard kitchen to be a more modern hub for their family.
Island alternative: Dining table with a quartz top. "We were forced to make many decisions that would mean compromising some of the things on our wish list, such as having both an island and a seating area," De Lucia says. "I felt that every sightline into the kitchen should be perfectly symmetrical and harmonious. With that in mind, we decided to forgo the traditional seating area in the kitchen and create a hub in the center of the room with a large island-and-table combo. The only stipulation from my husband was that he did not want to be sitting at a counter-height table on bar stools for our family meals." The bench is a favorite among the children when they're doing homework.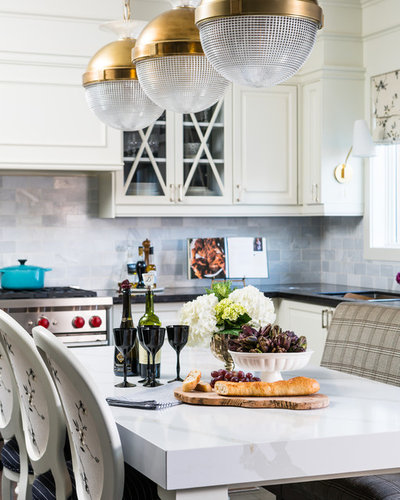 Interiors by Odette Design Group
Other special features: Solid maple cabinets painted in Floral White by Benjamin Moore, with lots of millwork and moldings above for visual interest. Hand-scraped hardwood floors. Carrara marble subway tile backsplash. Black and brown granite countertops. Custom cornice box concealing custom curtains.
Designer secret: "I would say that the biggest impact was the architectural interest that added to the tops of the cabinets with all the millwork," De Lucia says. "Never underestimate the power of millwork to add architectural drama to any room."
Wall accent paint: Black Horizon, Benjamin Moore; bench: Whittington & Co.; chairs and stool: custom-upholstered; pendants and sconce: Hudson Valley Lighting

Marina Rubina, Architect3. Compact Chopping Station
Designers: Marina Rubina (architect) and Giedre Miller (interior designer)
Location: Princeton, New Jersey
Size: 216 square feet (20 square meters); about 12 by 18 feet (3.6 by 5.4 meters)
Homeowners' request: For this new house, the owners wanted a family-friendly kitchen with a comfortable seating area. They "never found sitting at a taller island comfortable enough," architect Marina Rubina says. "At the same time, cooking at an island was also important."
Island alternative: Rubina separated the two functions of a typical island in this kitchen. The compact "working" island has a butcher block countertop and a small sink for washing vegetables. The side facing the range has large drawers for pots and pans. Meanwhile, eating and socializing happen at the lower table with the bench. "This makes for much more comfortable, cozy and relaxing seating," Rubina says.
Marina Rubina, ArchitectOther special features: The bench has storage below for particularly large things. The table has a wood top made from the same walnut as the butcher block island, but because it does not function as a cutting board, it has a different finish that requires less maintenance. Custom metal legs are similar in detail to the stair railing and allow the table to be moved around as needed.
The kitchen faces the street on one side and an interior courtyard on the other. "This allows for a friendly connection to the street — to wave to friends and neighbors as they walk by — and at the same time easy connection to the outdoor eating in the courtyard," Rubina says.
The cabinets are natural walnut with inserts painted Hamilton Blue by Benjamin Moore. The perimeter counters are granite. The mosaic tile backsplash extends all the way to the walls and ceiling. The floor is engineered white oak installed over a radiant heating system.
Designer secret: "A trick I use a lot is extending windows all the way to the ceiling," Rubina says. "The quality of light that comes into the room and reflects off the ceiling is truly special. Similarly, placing windows in corners makes one feel much more connected to the outdoor space, making smaller spaces feel larger."
Backsplash tile: Matrix series in gray, 6 by 24 inches, Galaxy Tile of Princeton; countertops: leathered granite, via Ohm International; cabinets, benches and island: Kountry Kraft
EFA inc.4. Butcher Block Cart
Designers: Erik Fagerland, Chris Woodby and Scott Fagerland of EFA Architect / Builder
Location: Long Beach, Washington
Size: 192 square feet (17.8 square meters); 12 by 16 feet (3.6 by 4.8 meters)
Homeowners' request: Expand the kitchen of an existing beach cabin to gain more natural light and openness.
Island alternative: Butcher block cart. "Because of the overall width of the kitchen, we could not fit a traditional island," architect Scott Fagerland says. "There would not have been enough room on either side."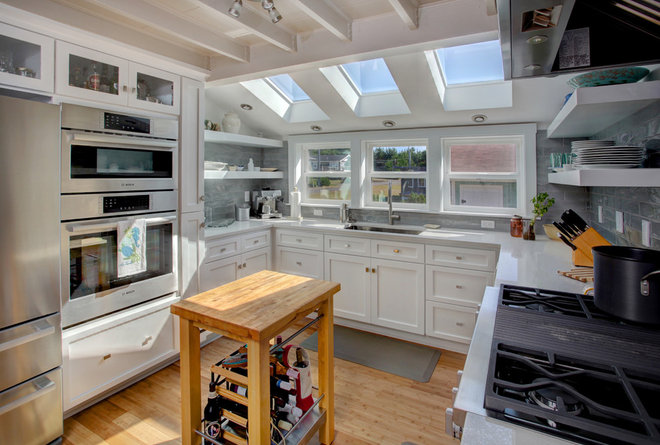 EFA inc.
Other special features: Skylights. Bamboo floors. Open shelving. Custom cabinets. "The homeowners are both commercial airline pilots and enjoy working in small spaces, and they wanted their kitchen to reflect that," Fagerland says. "Built-in appliances and storage, recessed can lights and versatile surfaces were key to developing that feel."Designer secret: "Typically we don't use skylights in our designs, as they can be difficult for the homeowner to maintain and can cause problems in our harsh coastal environment," Fagerland says. "However, in a single story with low ceiling heights, these will be accessible for cleaning and maintenance. They were the key to making an otherwise small room feel much larger. The open shelving compounds on that open-air concept for the space."
"Uh-oh" moment: "The homeowner had already installed some nice bamboo flooring throughout the cabin, but patching and extending that flooring into the kitchen proved to be quite challenging," Fagerland says.
Appliances: Bosch; countertops: Caesarstone; porcelain tile: custom, via Bergerson Tile & Cabinets; custom-built cabinetry: Bo Olson of Alpine Woodworks; photographer: Don Frank Photography
More
How to Clean and Care for Your Butcher Block
How Much Room Do You Need for a Kitchen Island?
4 Great Kitchens With Workhorse Islands
Other Resources on Houzz
Find a kitchen designer
Browse kitchen photos
Get kitchen advice 
Find kitchen islands and carts